At the Shangri-La Dialogue in Singapore, Deputy Chief of China's PLA General Staff, Lieutenant General Wang Guanzhong answered press questions about the Nine Dash Line, the demarkation line used by China for its South China Sea territorial claims.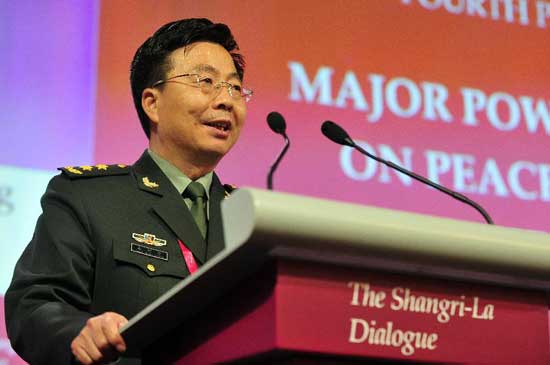 Wang Guanzhong, deputy chief of the General Staff of the Chinese People's Liberation Army, speaks during the fourth plenary session of the 13th Shangri-La Dialogue in Singapore June 1, 2014, the final day of the multilateral forum focusing on security issues in Asia. (Xinhua/Then Chih Wey)
At a media session on Monday, Wang said that China's sovereign power and jurisdictional rights over the South China Sea have been taking shape since the Han Dynasty, some 2,000 years ago.
In 1948, two years after China took back the Nansha and Xisha Islands from Japanese occupation, China presented the Nine Dash Line. Wang said that countries near the South China Sea did not question this line until the 1970s, when rich oil reserves were discovered under its waters.
Read more: http://english.cntv.cn/2014/06/03/VIDE1401750121202373.shtml