VietNamNet Bridge – On the sidelines of the international conference on Hoang Sa (Paracel), Truong Sa (Spratly) Islands in Da Nang on June 20-21, domestic and foreign scholars expressed their concerns over China's deployment of more oil rigs in the East Sea.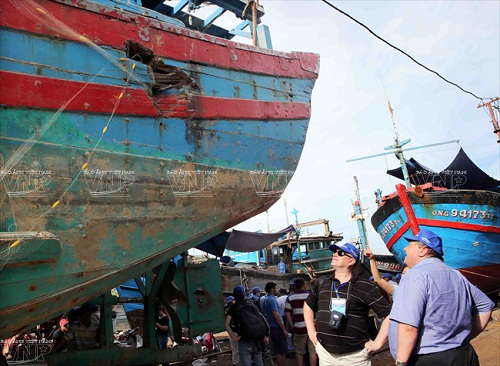 On June 21, 2014 the delegates who attended the International Workshop under the theme "Paracel and Spratly Archipelagos: Historical Truths" held in Da Nang inspect the fishing boat ĐNa 90152 which was slammed and sunk by China's vessels. This sunken boat was lifted from the water and pulled ashore. In the photo: The delegates see with their eyes a large hole in the side of the boat. Photo: VNA
Prof. Nguyen Quang Ngoc, deputy chairman of the Vietnam Historical Sciences Association:
The deployment of additional oil rigs in the East Sea shows that China will seek ways to realize its U-shaped claims.
It will not deploy just one oil rig but many other oil rigs, more airports and will occupy more areas to gradually turn the East Sea into a pond of their own.
China's strategy has always been to move backward to go forward and going forward is to occupy the entire East Sea. Its plot to monopolize the East Sea is very clear.
Read more: http://m.english.vietnamnet.vn/fms/government/105709/deploying-more-oil-rigs–china-turns-east-sea-into-its-pond–int-l-scholars.html#ui=mobile